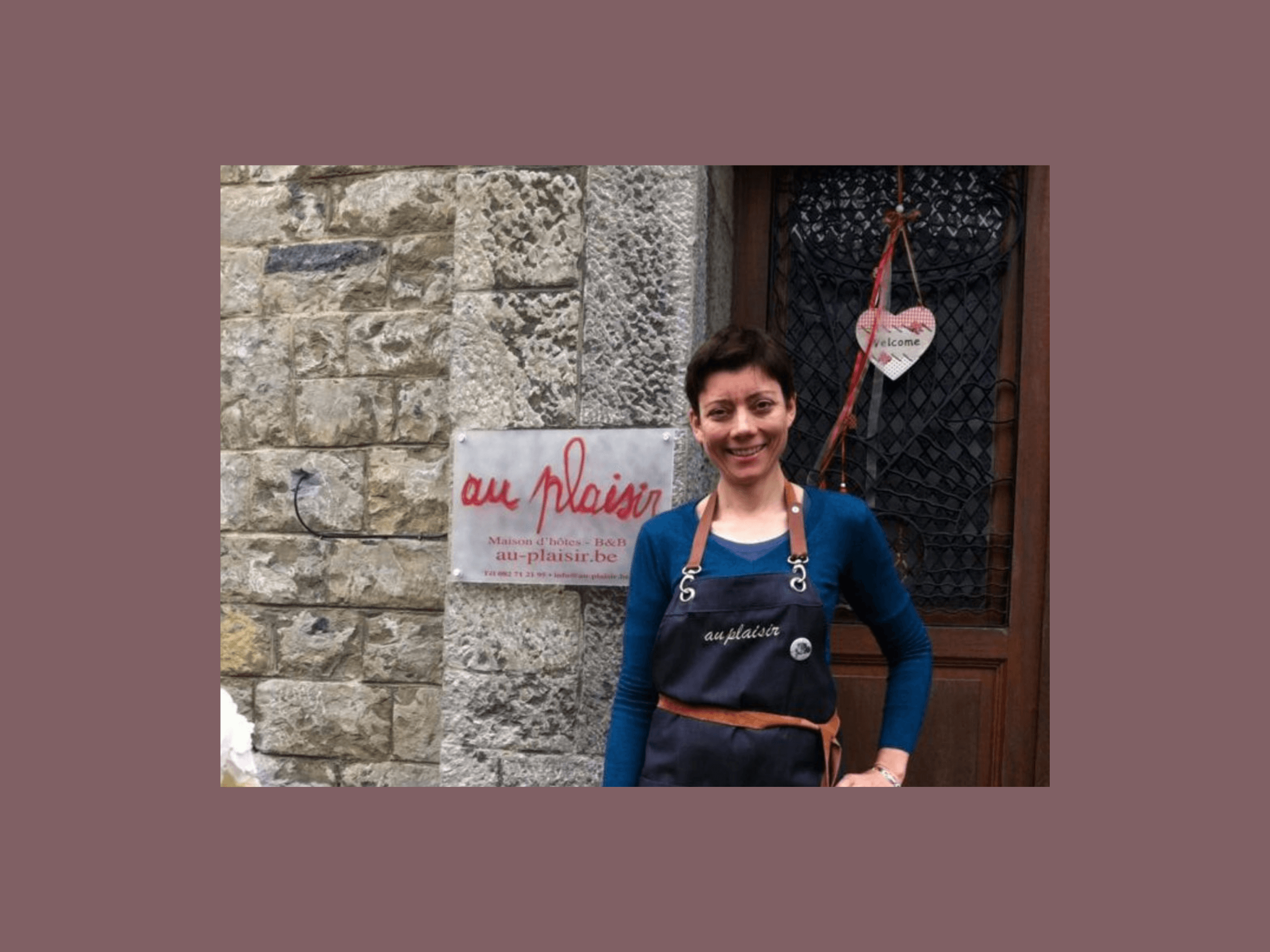 Your hosts
After a long quest, we fell for the beautiful Hastière-par-Delà, a small village on the banks of the Meuse and 13 kilometers from Dinant.

We became quickly enchanted with this charming, calm and traditional house of local stone. We wanted to make it lively, original, authentic and playful. However, this place is also perfect for relaxation.

Having a passion for travel, we have wanted to create our own B&B for years. . Hungry for nature and discovery, we love to share our favourite places and recommend the best spots.

As we are trilingual speakers, we would be delighted to welcome you in French, Dutch or English.

---
A typical Mosan house, an finely designed interior
The calm, charm and history of the house won us over the most… This house radiates hints of its great past..
- A remarkable B&B
- Themed weekends (murder parties, escape game, local beers or whisky tastings, wellness, cooking lessons...)
- Tourist off-road circuits with insider tips
- The sitting room is dedicated to our guests. You can watch (cable) TV, play one of the numerous games and find plenty of information about the things to do and see around.
- 100 m from river Meuse and RaVEL (biking path)
- On the Compostella path, the Benjamin route, the GR 125 and close to the GR 126 trail
- South-facing orchard, garden and terrace
- Warm welcome
- English spoken
- Special rate : rebate of 10 €/night for stays of 2 consecutive nights or more
- Free Wi-Fi
Salon
---
The sitting room boasts ancient furniture and period frames that could not ask for more. This collection provides an appetite for curiosity. Wrap yourself warmly in our Chesterfield sofa near the chimney.
Garden and vegetable patch
---
---
Warder in the flowered garden. Enjoy a brewed beer or a glass of wine on the south-exposed patio or instead, keep cool on the nort-facing patio.
Good Addresses and links
Here are some people, agencies and web services that we would like to thank and recommend to you :

Kristien Hansebout for most of the outdoor photos
The previous owners of Au Plaisir, Rita and Anne (when B&B was called Point Rose), who gave us delightful photos of the interior, outside front view and the garden.

Photography and infographics were provided to us by the Biannual Condroz Photography Exposition (Marchin) and Editions sur la Banquise. We dearly thank you for your contributions.
www.biennaledephotographie.be
www.editions-surlabanquise.fr