Explore the world of Nellie Bly
Immerse yourself in the 1920's with the famous American journalist onboard the luxury cruise liner. Find out how she got herself locked in her own cabin, as a "quarantine measure". Help her get out before the boat leaves the port 1 hour later.
Designed, created and built by its owners, who are passionate about games, the fun activity is a one-of-a-kind experience.
- Well thought-out styling
- A narrative based on real-life events and people
- Period objects
- Non-linear game
- Game followed in real-time by the games master, ready to help you with additional clues where appropriate

---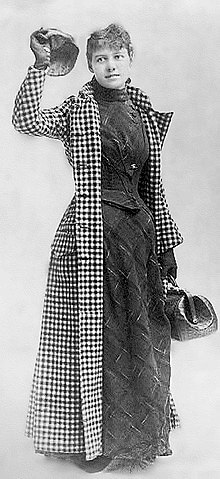 How to play?
What is the goal of an Escape Room/Game? You and your team are closed in a room and you have only 60 minutes to get out. To get out, you need to find clues and use them to escape. Every Escape Game is different and has unique story, setting and clues. Levels vary with each room.
You must search the room to find clues to understand why you are there and how to get out of there. You must use logical analysis, help your team, never give up and be organized (to organize clues and avoid searching the same places). The main key ;) involves communication. It is lots of fun but also a little stressful as you will all be absorbed by the game and the clock!
What for? To go out!
Book your getaway game online
Please arrive 15 minutes in advance
You can enjoy the hour of fun with your spouse, a friend or with your family
Find clues and solve mysteries
Get out in time and celebrate the glory together
---
- Accessible for 2 to 5 players over 12 years old
- This room is not possible for people with reduced mobility (2nd floor without elevator) or pacemaker users

€5 reduction if you stay at our B&B
Receive €5 reduction if you sleep at our guesthouse!
Break that record!
Ludo from the Belgian RTL-TVi show, the "Grande Balade" got out in 47 minutes. Think you can do better? Raise the bar!
Free gift: Get a practical guide with tips from the best players this week
Increase your chance of getting out in time from the Escape Room
Win a bottle of sparkling wine for your team if you can get out in less than 47 minutes.
Book now!
Check your availabilities!
Contact us
Escape Game 'Escape Cruise' Au Plaisir (maison d'hôtes) Rue des Gaux 72 5541 Hastière-Par-Delà
We also organize free 'murder parties' for groups who reserve our 4 bedrooms (proper bedrooms and not Escape Rooms of course). These parties are available in English, French or Dutch. This free activity lasts around 2.5 hours. There is a mathematic element (code cracking) and a psychological side (reasoning, relationships between characters).
If you do not have as much time, we also offer an express version (1.25 to 1.5 hours) centered on reasoning and psychological profiling as well as relationships between the accused. We can even propose another variation of the murder party, recently adapted for "A à Z" on the television that continues ever since. You can also choose to combine 2 murder parties of your choice with a full 3-course meal with appetizers at the guesthouse B&B. Please contact us for more information. We will do what is needed to make your weekend a killing for your friends appreciation of you.
1
Je ne sais pas encore comment nous serons. Je peux réserver quand même ?
Réservez pour le nombre de joueurs qui vous ont confirmés qu'ils viendront certainement. Ceux qui se rajouteront pourront payer directement la différence sur place, dans la limite notre capacité maximale : 5 joueurs/salle/jeu.
2
On sera plus que 5. OK ?
Notre pièce de jeu ne peut accueillir que 5 personnes à la fois. Partagez vous en sous-groupes. Nous avons un espace pour attendre.
3
A deux ? Ouvrez doublement les yeux !
Vous pouvez jouer, même si vous n'êtes que deux. Sachez juste que cela sera plus compliqué, surtout pour une première expérience ! Pas certain du nombre total et définitif de participants ? Réservez pour le nombre de joueurs confirmés, vous serez en mesure de régler le complément sur place dans la limite de 5 personnes par salle.
4
Combien de temps faut-il prévoir ?
Pensez à arriver 15 minutes plus tôt, pour avoir le briefing et le temps d'aller à la toilette. Le jeu en lui-même dure 60 minutes maximum, mais pour l'expérience entière comptez +/- 1 h 30 sur place : accueil-briefing 10 minutes avant l'heure réservée - la partie (60 minutes) - le débriefing : vous avez battu le record ? A vous les bulles ! Vous êtes sorti à temps ? Félicitations et photo pour immortaliser votre exploit. Vous n'avez pas réussi ? Notre gamemaster prend le temps de vous montrer ce qui restait juste à faire pour réussir. Profitez en ensuite pour découvrir la belle région d'Hastière-Par-Delà.
5
Nous sommes une petite équipe (collègues, PME..). Est-ce que c'est possible comme incentive ?
Soyez les bienvenus ! Contactez-nous pour connaître nos horaires en semaine. Nous pourrons vous établir une facture et vous concoctez si vous le désirez d'autres activités de groupe (c'est la spécialité de notre maison d'hôtes Au Plaisir !) : murder party, circuits en vélo, vélo électrique ou en scooter, cours de cuisine, balades à pied, croisières, visites culturelles. Nous vous aiderons volontiers à vous concocter une belle journée pour souder votre équipe.
6
Pouvons-nous modifier ou annuler notre réservation ?
Vous pouvez modifier votre réservation jusqu'à 5 jours avant la date fixée et prévue : nous pouvons déplacer votre réservation en fonction des disponibilités ou rajouter des joueurs supplémentaires (ceux-ci pourront payer sur place directement, dans la limite des places disponibles). Par contre, les joueurs absents ou les groupes ne se présentant pas ne pourront pas être remboursés.
7
Si nous arrivons en retard, est-ce un problème ?
Nous ne voulons pas pénaliser les groupes après vous. Comme tout retard affecte les parties suivantes, votre temps de jeu sera diminué. Nous décompterons votre retard de votre temps de jeu (pour autant que votre retard ne dépasse pas 15 minutes de retard. Au delà de 15 minutes de retard, la réservation devient malheureusement caduque et vous n'aurez plus accès à la salle. C'est pourquoi, nous vous conseillons d'arriver au moins 15 minutes avant le début de votre partie.
8
Le jeu est-il accessible à tous ?
Notre jeu est conçu pour tous dès 12 ans. Il ne demande rien de physique et n'a rien d'effrayant. Par contre, comme la salle est située au 2e étage, vous devez être capable de gravir les escaliers. Nous regrettons de ne pouvoir accueillir les personnes à mobilité réduite, mais notre infrastructure ne nous le permet vraiment pas. Attention si vous avez un pacemaker. Nous vous déconseillons de participer vu la présence d'aimants puissants dans la pièce.
9
Nous aimerions profiter de notre visite pour séjourner dans votre maison d'hôtes. Est-ce possible ?
Bien entendu ! Avec plaisir :-). Les personnes qui réservent une chambre Au Plaisir reçoivent une ristourne de 5 €/pp pour profiter de notre Escape Room sur place. En plus, nous réservons de prime abord (si réservation plus de 10 jours avant la date désirée) les sessions de début de soirée à nos hôtes. Ce n'est pas garanti pour les réservations de dernières minutes. Cela dépend des disponibilités de la salle et du game master.
La force vous déforce. Nous avons chiné des objets d'époque pour être le plus raccord possible avec la période de 1920-1930. Les objets que vous manipulerez ont presque 100 ans. Ils sont à manipuler avec précaution. Doucement, comme si c'était votre grand-mère ;-). Il ne sert à rien de forcer un objet. Vous ne feriez que le casser. Si cela ne s'ouvre pas aisément, ne forcez pas. Aucune force n'est requise. Habilité et doigté vous seront d'un plus grand recours. Pas besoin de démonter ou de démolir notre Escape Room. Si vous ne respectez pas le mobilier et les objets et s'ils devaient casser, nous pourrions vous demander de couvrir les dégâts occasionnés. Pas besoin d'en arriver là.
We owe them a lot!
Lily would like to thank: Marie, Etienne, Claude, Davina and Tom de Huisnummer 20, Kristien, Adrien, Manu, Geneviève, Donald, Ian, Marie-Julie, Gisèle, Paul-Felix, Yolande, Vivianne, Joëlle and her friends, Jo, Isa, Louis, Adèle and Aliénor, Corentin, Paul, Laura, Benny including all those who tested the Escape Rooms and helped us improve this crazy project even further. Some bargain-hunted, others decorated, tested, retested, drilled, typed, translated. Thank you Véronique Decleyre for your excellent illustration skills. Thank you also for the thoughtful person who thought of the idea to create our own Escape Room.