Explore the world of Nellie Bly
Immerse yourself in the 1920's with the famous American journalist onboard the luxury cruise liner. Find out how she got herself locked in her own cabin, as a "quarantine measure". Help her get out before the boat leaves the port 1 hour later.
Designed, created and built by its owners, who are passionate about games, the fun activity is a one-of-a-kind experience.
- Well thought-out styling
- A narrative based on real-life events and people
- Period objects
- Non-linear game
- Game followed in real-time by the games master, ready to help you with additional clues where appropriate

---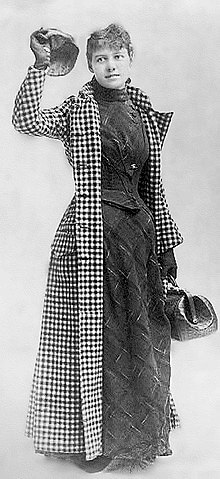 How to play?
What is the goal of an Escape Room/Game? You and your team are closed in a room and you have only 60 minutes to get out. To get out, you need to find clues and use them to escape. Every Escape Game is different and has unique story, setting and clues. Levels vary with each room.
You must search the room to find clues to understand why you are there and how to get out of there. You must use logical analysis, help your team, never give up and be organized (to organize clues and avoid searching the same places). The main key ;) involves communication. It is lots of fun but also a little stressful as you will all be absorbed by the game and the clock!
What for? To go out!
Book your getaway game online
Please arrive 15 minutes in advance
You can enjoy the hour of fun with your spouse, a friend or with your family
Find clues and solve mysteries
Get out in time and celebrate the glory together
---
- Accessible for 2 to 5 players over 12 years old
- This room is not possible for people with reduced mobility (2nd floor without elevator) or pacemaker users

€5 reduction if you stay at our B&B
Receive €5 reduction if you sleep at our guesthouse!
Break that record!
Ludo from the Belgian RTL-TVi show, the "Grande Balade" got out in 47 minutes. Think you can do better? Raise the bar!
Free gift: Get a practical guide with tips from the best players this week
Increase your chance of getting out in time from the Escape Room
Win a bottle of sparkling wine for your team if you can get out in less than 47 minutes.
Book now!
Check your availabilities!
Contact us
Escape Game 'Escape Cruise' Au Plaisir (maison d'hôtes) Rue des Gaux 72 5541 Hastière-Par-Delà
We also organize free 'murder parties' for groups who reserve our 4 bedrooms (proper bedrooms and not Escape Rooms of course). These parties are available in English, French or Dutch. This free activity lasts around 2.5 hours. There is a mathematic element (code cracking) and a psychological side (reasoning, relationships between characters).
If you do not have as much time, we also offer an express version (1.25 to 1.5 hours) centered on reasoning and psychological profiling as well as relationships between the accused. We can even propose another variation of the murder party, recently adapted for "A à Z" on the television that continues ever since. You can also choose to combine 2 murder parties of your choice with a full 3-course meal with appetizers at the guesthouse B&B. Please contact us for more information. We will do what is needed to make your weekend a killing for your friends appreciation of you.
1
I do not know how many we will be. Can I make a booking anyway?
You can book for the number of players that have already confirmed with you. If more players turn up on the day, they can pay the difference in price if you stay within the limit of 5 people per game/room at the same time.
2
What if our group is larger than 5 ?
Our room can only hold 5 people at a time. You can also separate your group into subgroups. We have a waiting area for subgroups.
3
If you come as only two, you will have to work even harder, it is true.
You can play even if you are only a group of 2. Remember that it will be more challenging, especially for a first time try. If you are not sure of your group size, reserve with the minimum group size you expect. On the day, if more attend, you can pay the difference but your group cannot be more than 5 people per room or game.
4
How long in advance should I arrive ?
Try to arrive 15 minutes in advance for a briefing and so that you will be able to go to the toilet beforehand. Even if the game lasts 60 minutes maximum, allow yourself 90 minutes for the full experience. This includes arriving, getting prepared, getting out of the Escape room, being reviewed, and time to celebrate if you get out on time or also if your group breaks the record. If you get on time, you get a team photo. If you get out in record time, you also get a bottle of sparkling wine. If you cannot get out on time, our game master will take the time to explain what was missing in your quest of success. Then you can get outside to take the fresh air and beautiful landscapes of Hastière-Par-Delà.
5
What can we do if we are a small team (colleagues, small to medium size enterprise) ?
Come along! Contact us for our midweek time slots. We can send you a detailed invoice and even elaborate a mix of alternative activities. This is our niche specialization at our B&B "Au Plaisir". Some examples include a murder party, exploration trails (on foot or bicycle with or without motor assistance or moped), cooking classes, cruises, and cultural visits. We would be delighted to come up with a plan that will be best adapted to your teambuilding needs.
6
Can we change or cancel our reservation?
You can change your booking up to 5 days before the arranged date. We can move the date according to availability or add extra players. Any extra players can pay on the day at arrival subject to availability of places. However any names or groups already confirmed who are absent on the day cannot be refunded.
7
What if we arrive late ?
We cannot delay all the other groups after your group. That is why we must reduce your game time according to how late you arrive. However, if you arrive more than 15 minutes late, you cannot play or have access to the escape room. This is why we recommend that you arrive 15 minutes in advance.
8
Is the game accessible to everyone ?
Our game is designed for 12 year olds and older. There are no major physical challenges. There are no frightening elements in this game. However as the game is located on the 2nd floor, you must be able to walk up 2 flights of stairs. We apologize that we could not install reduced mobility access due to building restrictions. We recommend that people with pacemakers do not take part because of large and powerful magnets in the room.
9
Is it possible to stay in your B&B to make the most of our stay ?
Yes, of course. We would be delighted! Those who reserve a stay in Au Plaisir receive a 5€ reduction per person for our Escape Room. If you book a room more than 10 days in advance, we also prioritize your Escape Room reservation for the start of the evening. We cannot guarantee priority time slots of the Escape Room if you book your room and game at the last minute as this depends on availabilities of the game master and the Escape Room.
10
What if I break something in the Escape Room ?
You break it, you bought it! We spent considerable time and energy to find and acquire original period objects from the 1920's. Due to their age, these objects are fragile and must be handled with great care. We kindly ask to avoid applying any force on any objects in the Escape Room to prevent damage. If you have trouble opening a shut object, keep calm and use your fingers and patience to get there. There is no need to tear apart and destroy the escape room. If you fail to follow these fundamental rules, we may ask you to cover costs of any damages. We would prefer if this does not happen at all.
We owe them a lot!
Lily would like to thank: Marie, Etienne, Claude, Davina and Tom de Huisnummer 20, Kristien, Adrien, Manu, Geneviève, Donald, Ian, Marie-Julie, Gisèle, Paul-Felix, Yolande, Vivianne, Joëlle and her friends, Jo, Isa, Louis, Adèle and Aliénor, Corentin, Paul, Laura, Benny including all those who tested the Escape Rooms and helped us improve this crazy project even further. Some bargain-hunted, others decorated, tested, retested, drilled, typed, translated. Thank you Véronique Decleyre for your excellent illustration skills. Thank you also for the thoughtful person who thought of the idea to create our own Escape Room.